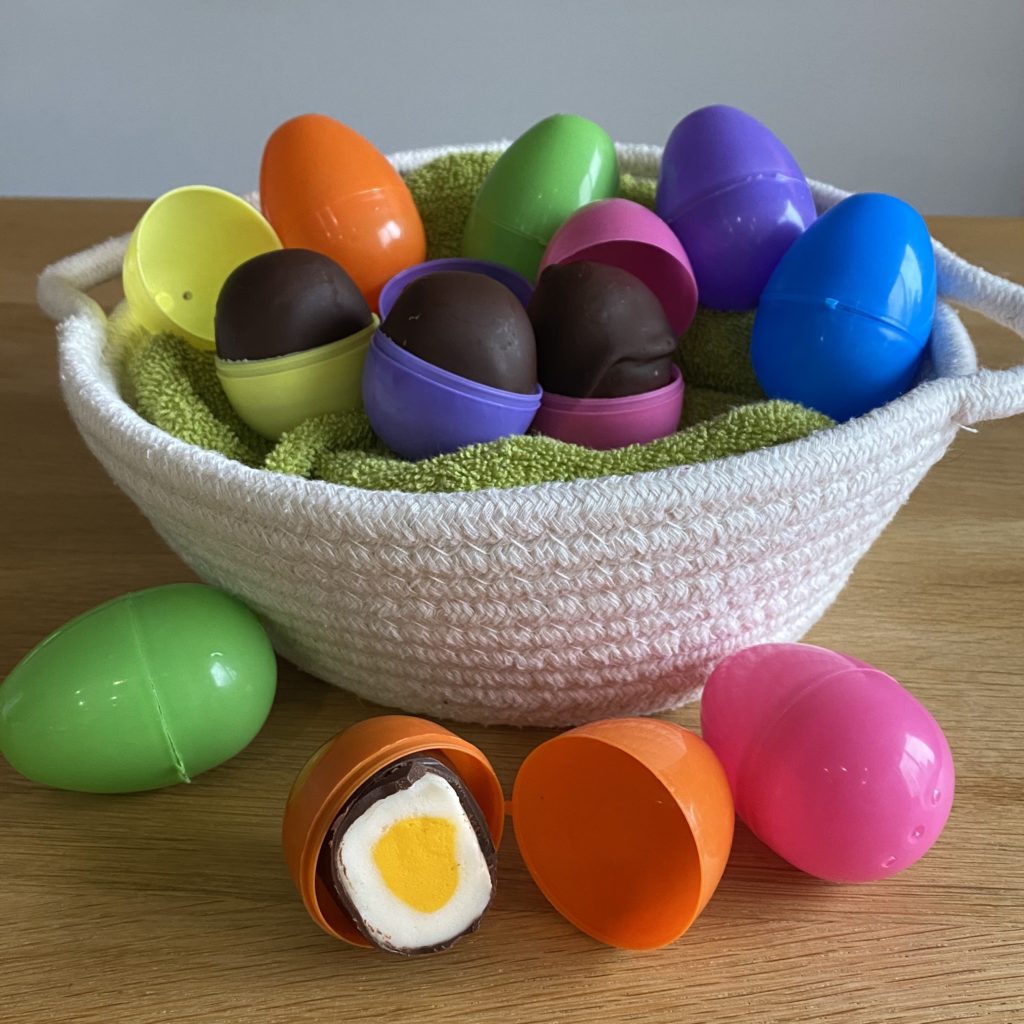 170g (1/2 cup) light corn syrup
58g (1/4 cup) salted butter, room temperature
375g (3 cups) icing sugar
1 teaspoon vanilla
yellow food colouring
1 (12 oz) bag dark chocolate chips
In a mixer with the paddle attachment, cream together the corn syrup, butter and vanilla.
Sift in the icing sugar and beat until smooth. The mixture will look very dry but after a few minutes will become creamy and smooth.
Take out about a third of the filling and stir in some yellow food colouring. Put the two bowls in the fridge, it's easier to work with once they're set up a little, roughly 30 minutes. 
Make little yolk balls out of the yellow mixture, roughly teaspoon sized. I found it easier to use gloves and dip your hands in a bowl of ice water. It keeps your hand's cool and the filling doesn't stick to your fingers. Place them on parchment paper on a plate or cookie tray and put them in the freezer for minimum 30 minutes to firm up.  The most important thing to keep in mind is this mixture will soften very quickly. Make sure you're keeping everything cold and putting them back in the fridge or freezer often and after each step. 
When the yolks are set up, you can start embedding them in the whites.  Scoop a tablespoon sized amount of white filling out and flatten it into a circle. Place the yolk ball inside, and wrap the white around it. Stick it back in the freezer. 
Melt the chocolate with 2 teaspoons of shortening in the microwave in short bursts until just melted. 
Put the 'eggs' onto skewers and dip them into the chocolate. Either lay flat or stand up to dry. I did one coat but you could do two if you wanted. Keep refrigerated until you are going to enjoy!
My first attempt I did a half patch and it turned out great!
This recipe is adapted from www.instructables.com/id/Homemade-Cadbury-Creme-Eggs/